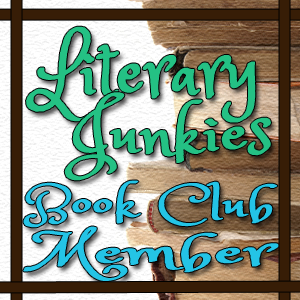 The details:
The Literary Junkies Book Club "head quarters" is in a private Facebook group. Here we encourage discussion about all things books!
We "meet" monthly – the 3rd Tuesday of every month. This date coincides with the Literary Junkies link-up that Christine (Life with a Side of Coffee) and I also host.
On these book club Tuesdays, we host a Twitter party at 7pm CST!
We have created a special twitter party page that will help you keep up with just our chat. It's set up specifically for the Literary Junkies. Click here to access our page (and bookmark it!) On our chat day, click that link and then look for the blue button mid-way down the page that says Enable Chat Mode. You'll be all set after that. 🙂
This is a chance for the club members to chat in real-time about the book we just finished reading. Grab your favorite beverage and cozy up with us as we discuss the month's book club pick. We will use the hashtag #LiteraryJunkies during our Twitter party (our special "chat" room will have the hashtag all set for you…you won't even have to remember to use it!).
If you aren't able to attend the party, you'll still be able to read the party conversations afterwards by searching our hashtag. We also offer month-long discussion of our book club pick in our Goodreads Group. We've chosen to not have the discussion in our Facebook group so that those that haven't finished reading it aren't spoiled by the conversation.
Literary Junkies Book Club's currently-reading …
23 members

Find us on Facebook at https://www.facebook.com/groups/literaryjunkies/
Books we're currently reading
Diamond in the Rough: A Memoir
by
Shawn Colvin
Start date: April 17, 2013
Here's the upcoming reading list:
MARCH: Serena by Ron Rash



Goodreads.com Synopsis:
The year is 1929, and newlyweds George and Serena Pemberton travel from Boston to the North Carolina mountains where they plan to create a timber empire. Although George has already lived in the camp long enough to father an illegitimate child, Serena is new to the mountains—but she soon shows herself to be the equal of any man, overseeing crews, hunting rattle-snakes, even saving her husband's life in the wilderness. Together this lord and lady of the woodlands ruthlessly kill or vanquish all who fall out of favor. Yet when Serena learns that she will never bear a child, she sets out to murder the son George fathered without her. Mother and child begin a struggle for their lives, and when Serena suspects George is protecting his illegitimate family, the Pembertons' intense, passionate marriage starts to unravel as the story moves toward its shocking reckoning.
Rash's masterful balance of violence and beauty yields a riveting novel that, at its core, tells of love both honored and betrayed.
APRIL: What Alice Forgot by Liane Moriarty


Goodreads.com Synopsis:
Alice Love is twenty-nine, crazy about her husband, and pregnant with her first child.
So imagine Alice's surprise when she comes to on the floor of a gym (a gym! She HATES the gym) and is whisked off to the hospital where she discovers the honeymoon is truly over — she's getting divorced, , she has three kids, and she's actually 39 years old. Alice must reconstruct the events of a lost decade, and find out whether it's possible to reconstruct her life at the same time. She has to figure out why her sister hardly talks to her, and how is it that she's become one of those super skinny moms with really expensive clothes. Ultimately, Alice must discover whether forgetting is a blessing or a curse, and whether it's possible to start over.
If you are a Literary Junkie, come join this awesome online Book Club!!!
Are you an author or publisher? Interested in having our group read your book? Interested in having a some of our members review your book? Email Taylor @ pinkheelspinktruck(at)gmail(dot)com or click the link.