This post was created in partnership with America's Farmers. All opinions are my own.
Did you know that every day begins with a Farmer hard at work getting their products ready for American consumption?? My dad's family raised cattle (more specifically Beefmasters) when I was growing up. I remember spending time with my grandfather out on the farm. We'd go out there to feed, check on the cows, count the cows to make sure none of them were missing (cows have strange personalities! ha!), tend to the barns to make sure they were all still in tip top shape, etc. I remember a few times bottle feeding some babies. If you've never had the experience to bottle feed a baby cow…boy howdy that's interesting for sure. 😉
Raising cattle was how my grandparents made part of their living. Especially once they hit retirement age. After my grandfather stopped building furniture as a profession and retired, he raised cattle full time. We still have our family farms but now we lease out the land to other farmers to raise their own cattle.
I say all this because farming has been part of my family's world, especially my father's family, since they came over to the United States. Some of our land is homestead land, meaning land granted from the state back at patent of the land (way back in the 1800s). Farming in my world has always been important. Having our own gardens has always been important. A means to take care of ourselves without depending on others.
In the next few years my hubby and I will be able to purchase our own land. I have my eyes set on a huge garden and raising some of our own cattle. Currently, I purchase a lot of my fruits and veggies from a local farm co-op. It's important to me to support my local farmers. It's important to me to know where my food is coming from. It's important to me to know that by purchasing through a farm, I'm immediately supporting the farmer who raised the products I'm consuming. Thus why it's important to me to share about America's Farmers.
I want y'all to meet the Blythe Family.
The Blythe Ranch raises more than 500 head of cattle and grows nearly 1,000 acres of hay, wheat, corn, alfalfa and soybeans. Their farm is located in White City, Kansas. Mrs. Blythe is even a fellow blogger (you can find her blog by visiting their profile page on the America's Farmers website)! She's been a strong advocate for agriculture, ensuring consumers know and can feel confident about where their food comes from.
It's important for us to all take note of where our food comes from and how our products are produced and made. To me, it's important to support our local farmers.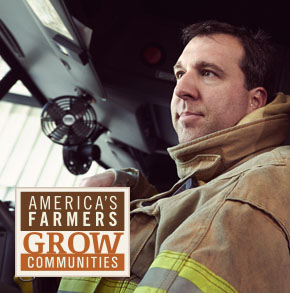 I am an America's Farmers Advocate. Are you??